Well here's a first for you, our awesome eCO readers. Today, we are giving our first mobile Badge of Honor to an app called Will Call (read more about it on their website). Will Call shows you the best live music happening near you, gives you all the info you need, and allows you to quickly and easily reserve and purchase tickets. As someone who loves going to shows and discovering new music, I use this app all the time. It's awesome, and totally deserves a Badge of Honor. Take a look!
When you first open the app and allow it to access your location, it will show you a selection of live shows happening in your city tonight.
If you select an artist, it opens a page about the show. It gives you a little blurb at the top to sum up the type of music, like the example below that simply says "Dark and doomy pop." This is enough to know right away whether it's the kind of music you'd want to see. Below that, some videos are provided so you can check out songs by the artist.  Right at the top, you can also see the location, time and price for this event. Basically, all the important stuff is available at a glance.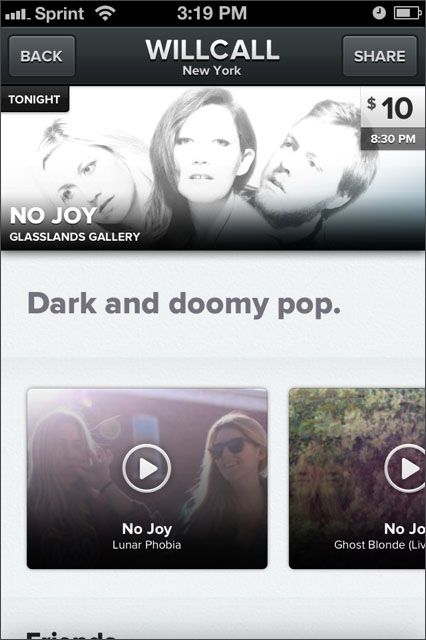 As you scroll down the page, you can also find a more detailed description of the artist, and a map to show where the venue is and how to get there. At the very bottom, there is a button to purchase tickets, which takes you to the checkout page. It lets you know that you only have to enter your credit card information once, because it saves it all for you for future purchases. All you have to do is select the quantity, complete the purchase, and you're ready to go to the show!
This mobile app makes finding live music simple, and purchasing the tickets even simpler. Great usability, great app. Thanks for the good work, Will Call! Enjoy your Badge of Honor.