There's no shortage of competition between home improvement giants Lowe's and The Home Depot, that's for sure. Today, we thought we'd check out their websites and see how the two retailers stack up in the e-commerce arena. Since there's just too much to sift through on both websites, we're only going to explore a couple of elements: the search function, and the sorting and filtering options. I decided to search Lowe's and The Home Depot for an item any homeowner needs in their arsenal: a ladder.
Let's start with Lowe's. As you type into the search field, it starts generating suggestions. It's really cool how it suggests both broad categories, as well as specific products below that. The suggestions even include small product images and brief descriptions. I'm curious as to why all of these suggested products are the same brand, and I wonder if they are paid sponsors or best sellers or what… That aside, it's a great way to start a search!
I clicked on the first category suggestion of ladders. There are some good sorting options along the top of the page, a comparison feature, and shoppers can even choose to view the results either as grid or a list. These things are all great. However, along the left navigation, the only filtering option is to choose a department: Building Supplies, or Outdoor Living & Recreation.
At first, I was a little puzzled as to why I didn't have more filtering options to choose from. It turns out that they're hidden, and you have to first choose a department before the site will display the next set of refinement options. Once I clicked on the Building Supplies option, I got a whole new list of helpful filters.
These refinements, like rating, price and brand, are definitely good, but they're pretty generic and not specific to ladders. For example, ladder height would be a good option to add. Also, I wish these filters weren't hidden on the initial results page. It makes shoppers have to take an extra step to refine for what they need, and some people might miss it altogether. I would suggest making all the filters available right from the beginning.
Now let's see what The Home Depot has to offer. This search function is similar to Lowe's in the way that it begins making suggestions as you type into the field. The drop-down gives you the option to shop by category or brand, or even click to to project guide videos and a ladder buying guide.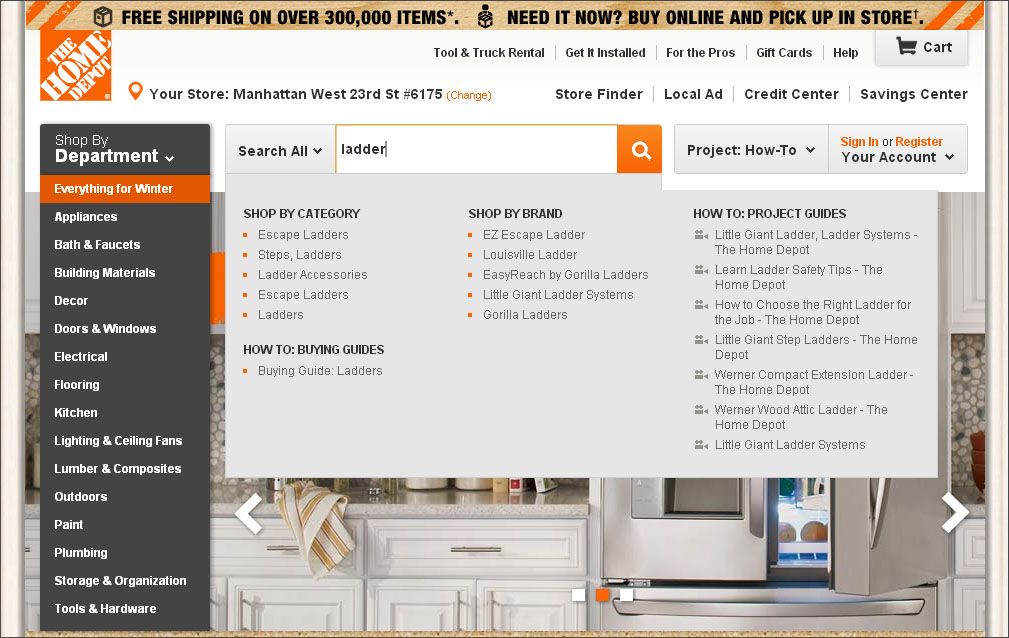 That's a lot of options, but I just clicked on the Ladders category, like I did at Lowe's. It brought me to a page showing all the different categories of ladders, complete with generic product images and the option to choose the material. I like this because if a shopper isn't quite sure about what type of ladder they need, they can refer to the pictures as a guide. Even though it does hide many of the other refinement options until the next page, I think this is a great way to point customers in the right direction.
Since I had to choose a category to move forward, I selected Step Ladders. When I got to the category page, I found sorting and filtering galore! The left hand navigation had tons of refinement options specific to ladders, including a few that Lowe's doesn't offer, like height, ladder material and the ability to set your own custom price range. I also really like how the tabs along the top allow shoppers to choose to view all the products, the ones that are available online only, or the ones available in their nearest store.
This e-commerce face-off is a pretty close call, especially since the two search functions are very similar. However, The Home Depot comes out ahead for their refinement options. Sorry Lowe's, but it's like you say: Never stop improving. That goes for your website, too!