On Ecommerce Outtakes, we see our fair share of e-commerce filtering mistakes. Maybe more than our fair share, actually. So today we wanted to break it down, and show you where these missteps fall. When you take a broad view and separate it into categories, these are the top 3. Let's take a look.
Filtering mistake #1: Not enough filtering options
I'm sure you've seen it before. You find yourself on a category or search results page, and you can't find any menus with options for narrowing down your selection. It may look a lot like the Merrell clearance section:
Where are the options to help shoppers sort and filter? Sometimes, like in the case of Merrell, the filters are missing altogether. On other sites, there may be a few standard sorting options, like sort by price (low to high, or high to low) or by name (A-Z or Z-A). In many cases though, that's just not enough. For instance, if you're shopping for shoes, you'd probably want to narrow by size or color, filter out boots or sandals, or maybe find only shoes that are made of leather or are waterproof. Having refinements that are specific to the products are the most helpful to customers. Unfortunately, many e-commerce sites miss the mark on this one!
Filtering mistake #2: Options are irrelevant or mismatched
Sometimes, you come across a site that does offer filtering options–woo hoo! But when you take a closer look, you find that some of these options leave you scratching your head. Here's an example, from a sale last November on the Sierra Trading Post site:
Hmmm… I'm not sure if I prefer my carry-on to have long sleeves, or my duffel to have short sleeves. Are we talking about shirts or suitcases here? These filtering options are mismatched and confusing, and ultimately, not very helpful to a shopper trying to sift through this sale.
Here's another example, from the Best Buy website: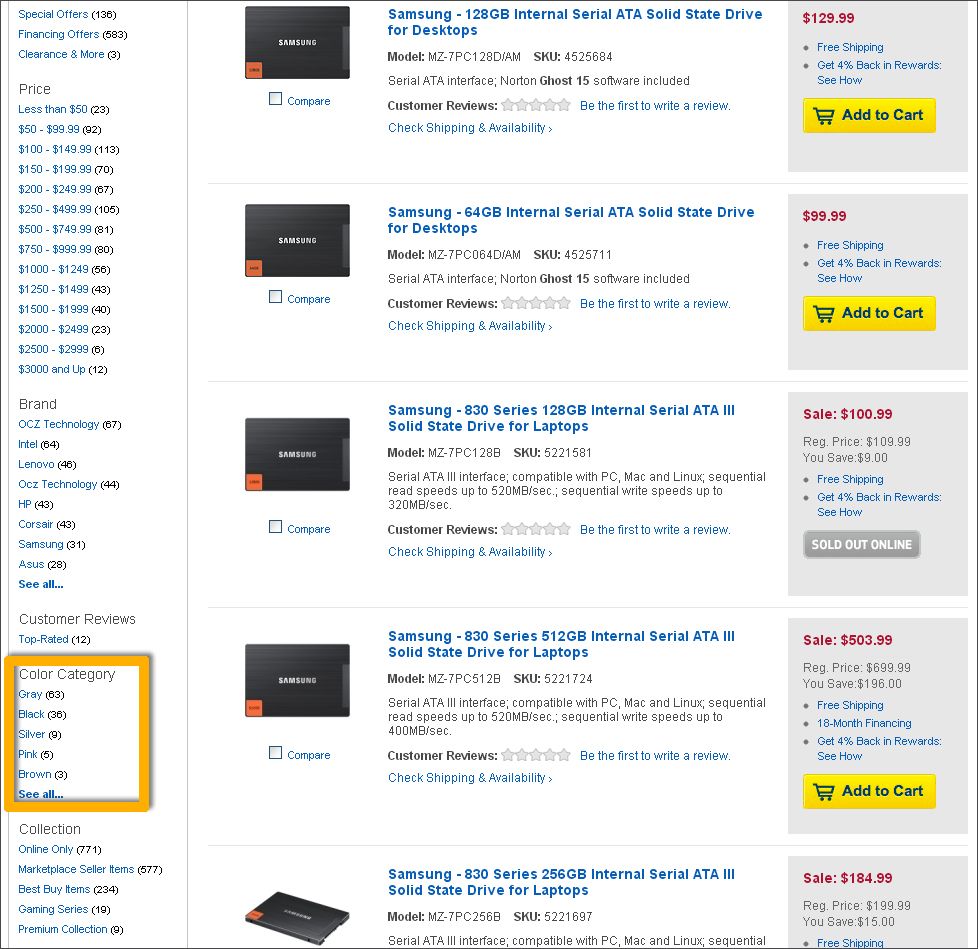 Some of these filters work, like brand and price. But does color category matter in the case of storage devices like solid state drives, especially when most of them are black or grey anyway? Not so much. It would be more beneficial to tailor the filters to the type of product, like offering the ability to narrow by storage size, and by which ones fit laptops or desktop computers. Best Buy does this for other products, like TVs, so it's strange that they wouldn't provide better options across the board.
Filtering mistake #3: Refinements are confusing or bizarre
There are even some cases where getting the type of filter right isn't enough. It's just as important to provide well thought out choices within each filtering category. Some sites don't do a great job of this, and provide some strange and confusing options for customers. Here's an example from a site called Socks Max. They offer the option to sort by price, which is great. But when you open the drop-down menu, these are the choices you have:
Below $6 or above $6… Why are those the options? Offering a low to high/high to low option might be more helpful, or even a selection of more specific price ranges. But when 944 products are $6 or above, this sorting option doesn't help narrow things down much.
Another example comes from Iris Furniture. There's one sorting menu with a few different options, including price: low to high, price: high to low, and most popular. Some of the other choices, however, are pretty confusing:
If I choose to sort by manufacturer, does that mean it will be alphabetical, or something else? Same goes for sorting by title. And does most popular mean highest rated, or best seller, or what? These options are very vague, and ultimately not very effective in helping shoppers narrow down their furniture selection.
At the end of the day, sorting and filtering options should be helping shoppers find the products they want and make that purchase. If your filters aren't achieving that goal, whether it's because there aren't enough, they're mismatched or irrelevant, or the options are confusing or pointless, then these filters aren't doing their job. It might be time to reevaluate the design of your e-commerce site!
What's your take? Are there other filtering mistakes that should have made this list? Share your thoughts in the comments below!